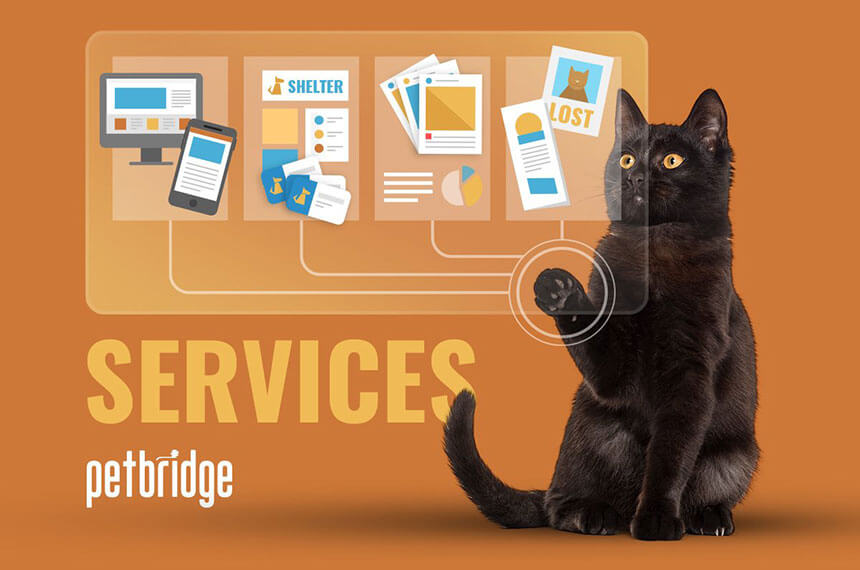 Did you know that PetBridge capabilities go beyond pet displays and pet alerts? PetBridge developers and Baseline Creative marketing agency can help your organization with website development and support and design and marketing.
What Else Can PetBridge Do?
Web Development & Functionality
PetBridge has assisted organizations with integrating payment gateways for e-commerce and for online donation processing. This has included shops for selling merchandise such as shelter branded promotional items including t-shirts, pet products, and more.
In addition, giving shelters the ability to register people online for events, classes and training save time and money. Processing donations online can free up staff time and in the time of Covid, it can ensure you can keep funds coming in without in-person contact.
Artificial intelligence or chatbots have become more used on the web. Chatbots, or autoresponders, can provide instant answers to questions from the public. We've incorporated these features into the websites of several PetBridge clients.
We rebuilt the website for Wichita Animal Action League and created a conditional logic contact form that has saved them hundreds of hours answering calls and responding to emails.
Graphic Design
Baseline Creative, the sister company to PetBridge, has designed graphics and posters for events including the Kansas Humane Society's Woofstock annual event. Our designers love to unleash their creativity to make appealing graphics for programs and events!
Digital Marketing
Need help running your Google Ads? We can help! Are you in need of assistance with your social media management or are you looking for expert help with a social media campaign? Our experienced digital marketers can help you target and convert donors with paid social media.
Let's Have a Conversation
We want to be of service to those in the animal welfare industry because in the end saving more animals' lives is the goal. If you have a project you are thinking about, contact us! PetBridge capabilities may have the answers and expertise you need.