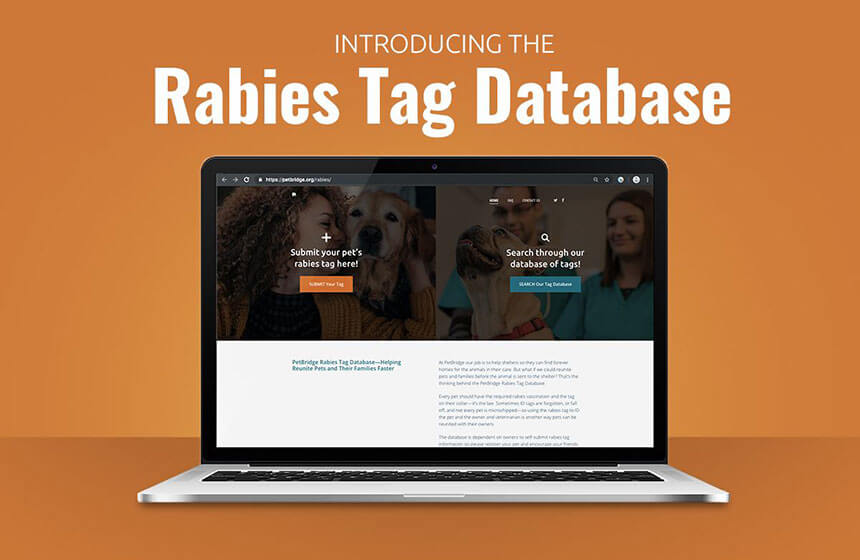 An encounter with a dog that had a rabies tag, but no other identification, microchip, or contact information on their collar, inspired PetBridge user, Kyrstin Cook to reach out with an idea—a national rabies database.
While Kyrstin's story had a happy ending with the dog being reunited with the owner, she thought about other animals that are lost and instead of finding their way back to their families, they are placed in animal shelters. Kyrstin reached out to PetBridge to find a solution and the Rabies Tag Database was created.
The Rabies Tag Database is a national depository of rabies tag numbers and owner contact information. Owners add their pet's rabies tag information, pet's name, their own name, and the name of their veterinarian into the database. If their animal is ever lost, the Rabies Tag Database gives them another layer of protection to make sure pet and owner are reunited.
"Our goal at PetBridge is to connect pets to their forever homes," said Nathan Williams, PetBridge founder. "When pets already have a forever home, it's important they find their way back, instead of ending up in the shelter system, which is why the Rabies Tag Database fits into our mission. Seeing pets and their families reunited is the best feeling in the world."
If you find a lost pet in your area, and the animal is friendly and approachable, you can check his or her collar for identification. If there is only a rabies tag, check the PetBridge Rabies Tag Database and see if the tag has been registered. If so, you can make sure owner is contacted as soon as possible, and won't need to take the animal to a shelter. "The Rabies Tag Database is one more tool we can provide to help animals find, and remain, with their forever families," Williams said.
About PetBridge
In 2012, PetBridge created a web display for animal shelters and rescues to promote the animals who are available for adoption—dramatically saving animal lives, volunteer time and shelter resources. In 2016 PetBridge introduced the Lost & Found Poster Generator which provides a quick and easy way for people who have lost, or found an animal to create posters that can be printed and/or shared on social media. In 2019, PetBridge released the Rabies Tag Database.