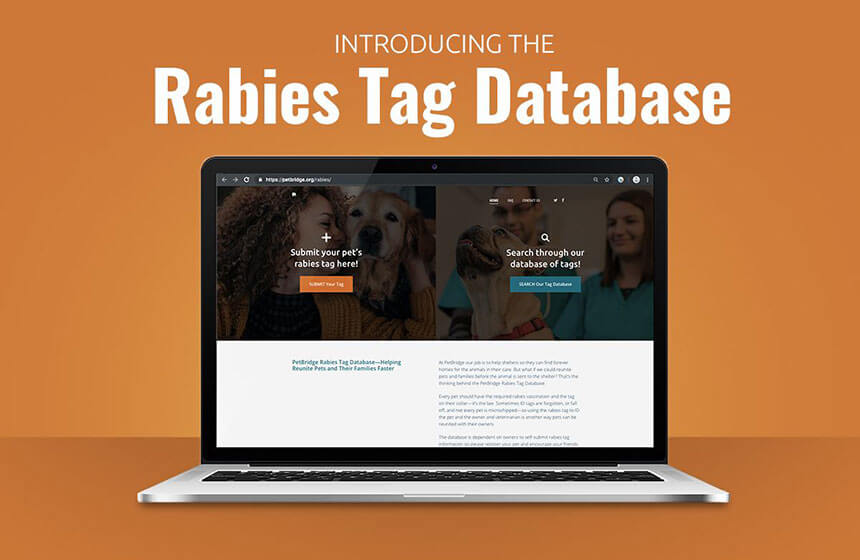 An encounter with a dog that had a rabies tag, but no other identification, microchip, or contact information on their collar, inspired PetBridge user, Kyrstin Cook to reach out to PetBridge with an idea—a national registry with tag information.
Kyrstin's story had a happy ending with the dog being reunited with the owner. However, she thought about other animals that are lost. Often, instead of finding their way back to their families, they are placed in animal shelters. Kyrstin reached out to PetBridge to find a solution and the Rabies Tag Database (RTD) was created.
What is the Rabies Tag Database?
The Rabies Tag Database is a national depository of ID numbers and owner contact information. Owners add their pet's rabies tag information, pet's name, their own name, and the name of their veterinarian into the registry. The registry gives pet owners a chance to reunite with their animals.
"Our goal at PetBridge is to connect pets to their forever homes," said Nathan Williams, PetBridge founder. "When pets already have a forever home, it's important they find their way back, instead of ending up in the shelter system. This is why the Rabies Tag Database fits into our mission. We want to see more animals reunited with their families."
How Does It Work?
The registry is dependent on owners uploading their own information. If an animal isn't in the system, it means they haven't been added by an owner. "We want to get the word out about the Rabies Tag Database to shelters to share with their communities. Williams said.
This feature from PetBridge can also be used in your shelter before intake. Checking the rabies tag may reunite pets with their family before they have a chance to stay in your shelter.
Help Us Spread the Word!
In addition, your shelter or rescue organization can help spread the word about this no-cost feature! Feel free to include the information below in your e-newsletter, website, or however you connect with your community.
"Attention Pet Lovers! Be sure to register your pet in the PetBridge Rabies Tag Database. Simply enter your pet's rabies tag number along with contact information for you or your veterinarian into the registry. That's it! If your pet is lost and only has a rabies tag as an ID, the Rabies Tag Database (www.petbridge.org/web/rabies-tags/) helps provide  one more way for them to be identified before they are taken to a shelter."
PetBridge is honored to offer another free resource to all the shelters and rescues who do amazing work every day to find forever homes for the pets in their systems.