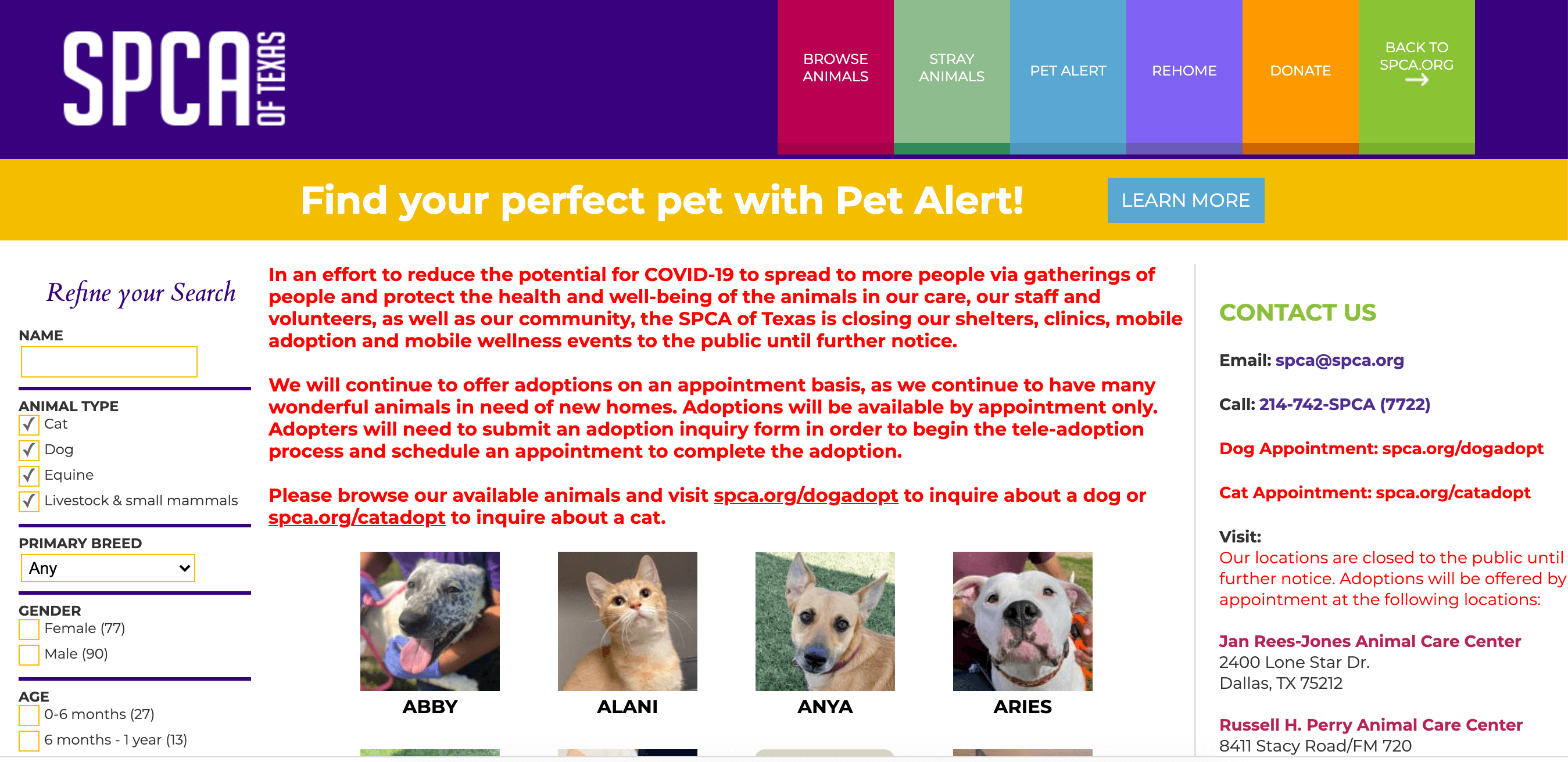 Each month we like to focus on one of our Petbridge shelters to review why they like to work with PetBridge as well as highlight some of their programs. This month, we talked to the SPCA of Texas located in North Texas in Dallas, Collin, and Ellis counties. Founded in 1938, the nonprofit operates three shelters, three spay and neuter clinics, two mobile spay and neuter wellness vehicles, a mobile adoption vehicle, and an emergency animal rescue center.
SPCA of Texas and Pet Display
As with most of the PetBridge shelters, the pet display functionality was key to using PetBridge. However, the SPCA of Texas doesn't have just dogs and cats. They also have goats and horses. Additionally, shelter animals are across multiple locations. It was important for their staff to be able to integrate their shelter management software to display all their available animals across both desktop and mobile devices.
"Working with PetBridge is great because we have been able to update the functions of our adoption pages as our organizations grows and changes. From adding in adoption locations to adding stray animal pages, we have been able to work with PetBridge to meet our needs every step of the way," said Madeline Yeaman Arnold, Senior Marketing Communication Specialist at the SPCA of Texas.
The SPCA of Texas has been working with PetBridge since 2014 and the pet display has had a significant effect on adoptions. "A large portion of our adoptions are driven by adopters finding pets on our website and using PetBridge to browse for the adoptable pet that matches what they are looking for," Madeline said. "PetBridge is a great choice for shelters and rescues wanting to streamline the process of placing adoptable or stray pets online. The customer service they provide makes updating features or troubleshooting issues a breeze, and the functions that their service includes make it simple for the public to find the pet they are looking for."
Interested in PetBridge?
If your shelter is in the market for a solution for your pet displays, pet alerts, and more, contact us! We love to help make your job easier and save more animals' lives!
More About the SPCA of Texas
We asked the SPCA of Texas what kinds of events or programs they have coming up that we can support and they told us about their 30th Annual Home for the Holidays and 6th annual Bark + Build Luxury Dog House and Cat Condo Design/Build Competition! Read more about this unique fundraiser below!
The SPCA of Texas is excited to announce that its 30th annual Home for the Holidays and 6th annual Bark + Build Luxury Dog House and Cat Condo Design/Build Competition and Adoption Event will be held virtually now through December 31, 2020.
The Bark + Build Luxury Dog House and Cat Condo Design/Build Competition and silent auction kicked off on November 9, 2020 with 18 custom-made houses being placed up for silent auction. These one-of-a-kind creations were designed and built by members of the American Institutes of Architects Dallas Chapter (AIA Dallas) and TEXO, The Construction Association.
All of the entries will be auctioned off online at spcaholidays.com. You can bid online until 8 p.m. on December 28, 2020. All money raised will go towards the SPCA of Texas' important mission to provide every animal exceptional care and loving home.