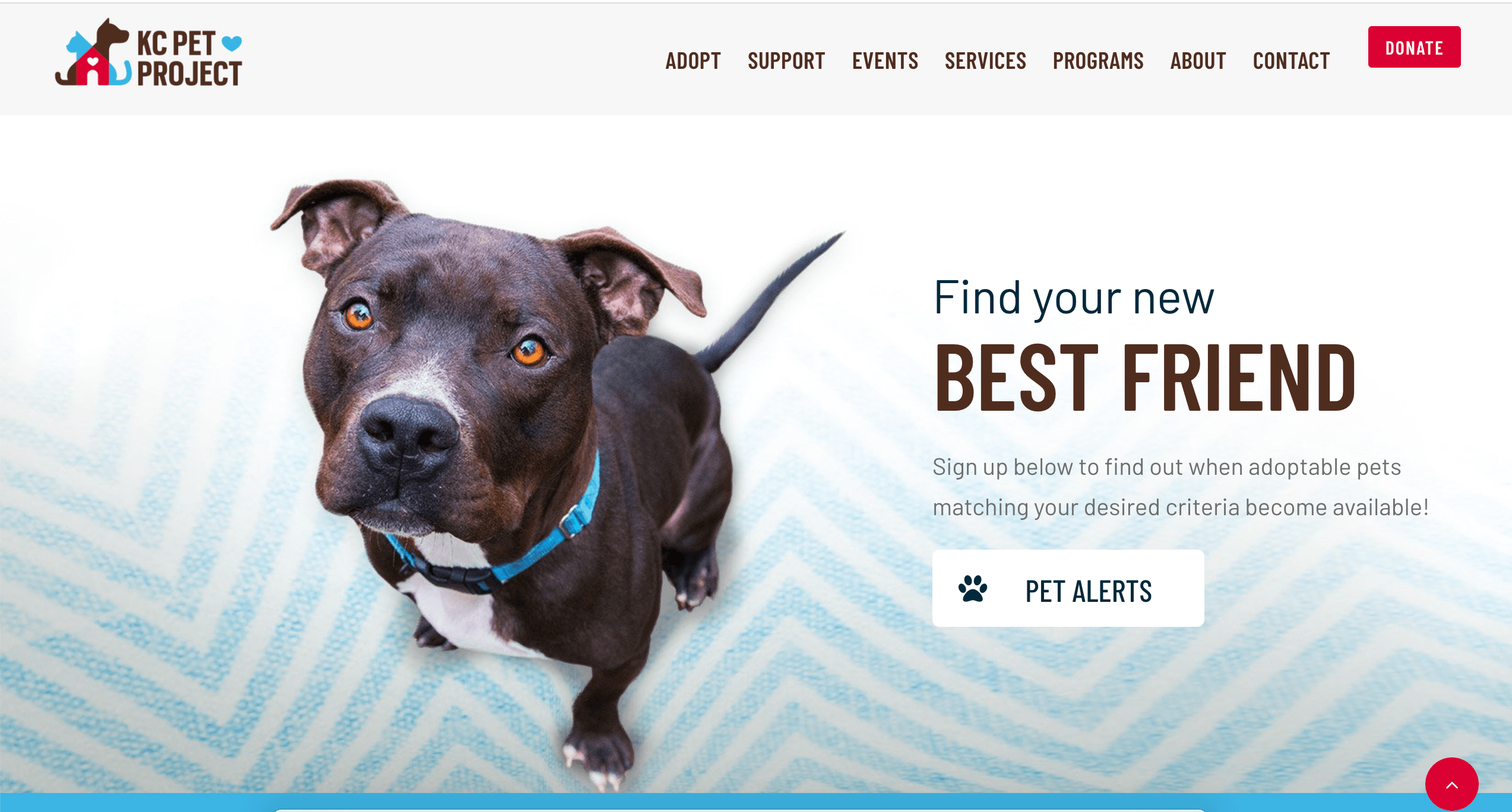 For more than five years PetBridge has helped the KC Pet Project in Kansas City find homes for their shelter animals through PetBridge features such as pet display, pet alerts, and even an interactive digital kiosk in the lobby of the shelter.
We asked Tori Fugate, Chief Communications Officer for the KC Pet Project why they chose PetBridge and she said the variety of features including Pet Alerts, and a more robust pet display were two major factors in choosing PetBridge. Read her answers more indepth below.
What was the need that brought you to PetBridge?
At KC Pet Project, we wanted to be able to offer the visitors of our website more than just a standard listing of available pets. We were looking for capabilities including a mobile app and the capabilities to sort by location, breed, age, etc. We saw the PetBridge platform at another shelter and immediately jumped on the opportunity to learn more.
Why ultimately did you choose PetBridge?
The Pet Alert System! This was a huge selling point for us as we were getting inundated with requests to let people know when pets matching their wanted criteria came to our shelter. We now have more than 12,000 requests for pets, which is just incredible!
What have been the greatest benefits working with PetBridge?
We love all of its capabilities, especially when we redesigned our website in 2019. Being able to work with the PetBridge team to create a new format for our website was wonderful. We also launched an interactive kiosk system for adopters to view dogs and cats at our Campus location, and PetBridge worked with us on the technology to roll those out. We also have one for Lost and Found pets in our Pet Support Center.
Have you seen adoption rates rise after PetBridge implementation?
We care for more than 10,000 pets at year at KC Pet Project, so the need for adopters is always critical for us. When we launched PetBridge and the Pet Alert System, we immediately saw a spike in adoptions. People love the system and being able to sort by location, age, breed, etc., is a huge bonus for our adopters.
What would you say to someone else considering PetBridge for their animal shelter or rescue?
Do it! We have loved working with PetBridge for many years and will be working on launching their ReHome tool by the end of the year on our website. I feel like many shelters work with a variety of companies to provide resources like an app, adoption tools, and alert systems, and PetBridge consolidates everything into one place. It's an amazing system that has helped tens of thousands of pets in Kansas City get adopted.
We love it when our clients are happy and we love helping them make a difference in the lives of thousands of pets each year! If your shelter is looking for a pet display solution we'd love to talk to you. Take a tour of our features, and contact us for more information.