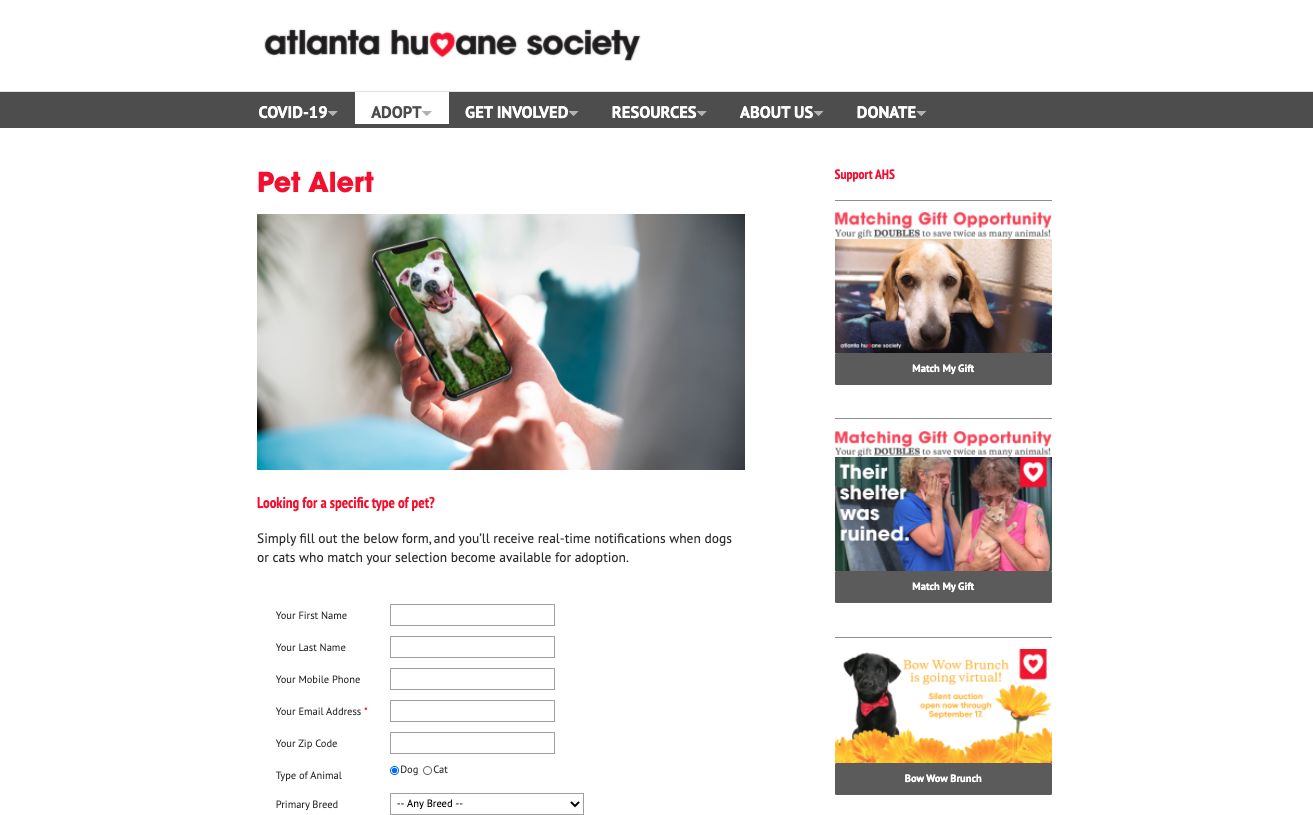 The Atlanta Humane Society is a no-kill shelter that works with over 60,000 animals through adoption, sheltering, care, and community outreach. They reached out to PetBridge in 2016 to more efficiently collect email addresses and found they needed the Pet Alert feature as well.
Capturing the Right Information and Pet Alerts
John Schraff, the Atlanta Humane Society Web Developer and Online Strategist said that after PetBridge was implemented both new email signups and donations increased—including double opted-in emails which indicates a high interest in hearing from the shelter. Those who double opt in can be sent messages about fundraising and adoption events and can receive updates from the shelter about operations or any other shelter-related news.
Ultimately, it was the Pet Alert feature that made the Atlanta Humane Society choose PetBridge. Pet alerts allow people interested in adoption to sign up to be alerted when an animal meeting their needs becomes available at the shelter. Pet Alerts are a great way to save your staff and volunteers time because potential adopters don't need to contact the shelter to answer questions about what types of animals are available for adoption. "How many times a week does someone ask you, "Can you let me know when you get a ______ that's ready to adopt?" It is so nice being able to say 'yes' to that question," Schraff said.
Pet alerts are a key feature of PetBridge and allow potential adopters to sign up to receive alerts when an animal matching their interest is entered into your shelter management software.
Key Benefits of Pet Alerts
Information is sent in real time from your shelter software to adopters!
Texts are sent nationally and locally to those interested so you have a wider audience of potential adoptive families.
Information about the animals in your shelter is automatically distributed to national websites like PetFinder and Adopt-a-Pet for a larger pool of potential adopters.
Most importantly, animals are adopted faster!
Want to Learn More?
PetBridge would love to answer your questions about our services. Take a tour of our features and compare our pricing levels, and as always, contact us with any questions you may have!