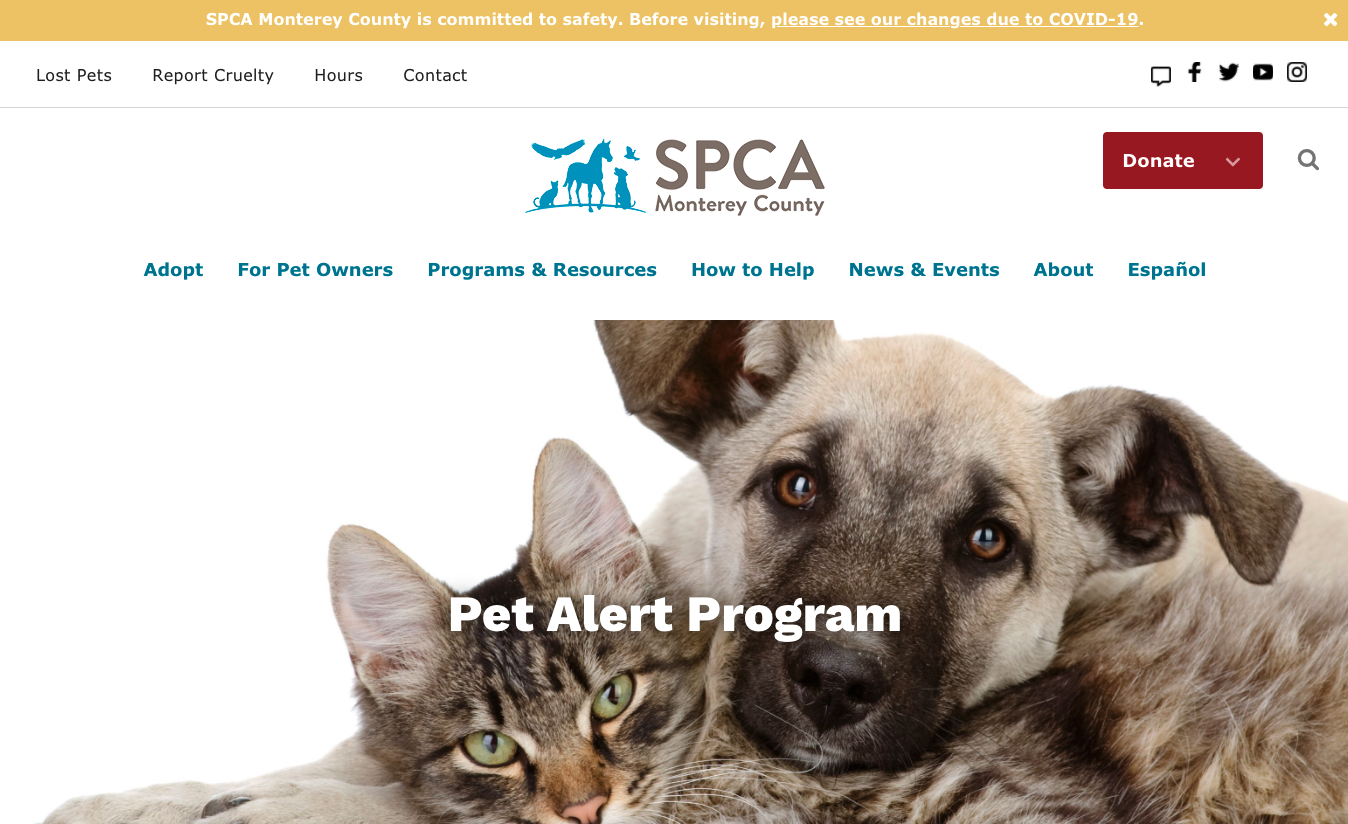 The SPCA of Monterey County in Salinas, California has been a PetBridge client for over six years. In our case study, they discuss how PetBridge Pet Alerts have saved them time and energy.
What was the need that brought you to PetBridge?
We always received calls and emails from hopeful adopters who were looking for a specific breed or characteristic in a pet. We wanted to find a way to make the system fair and seamless. Previously, we would call the first person on the list and keep going from there. Sometimes the first person wouldn't answer or wouldn't call us back for a week and then they were upset a pet had been adopted. And it took a lot of staff time away from helping animals. With PetBridge, we don't have to think about list maintenance at all – we make a pet available for adoption, and the emails and text automatically deploy to interested adopters. 
Why ultimately did you choose PetBridge?
PetBridge offered a great system with a solution to this time-consuming and often emotional problem.
What have been the greatest benefits of working with PetBridge?
The biggest benefit has been seeing pets in loving homes more quickly than ever. Pets are often adopted within hours or even minutes of being available for adoption when previously it could take days or weeks. Adopters are happy, our staff can spend time caring for animals instead of managing lists, and pets are in amazing, loving homes. It's a win-win-win!
Have you seen adoption rates rise after PetBridge implementation?
The best metric is the overall length of stay has dropped from a couple of weeks to just a few days. While we never put time limits on the pets in our care, it is always nice to see them go to their new forever home quickly, and PetBridge helps with that!
What would you say to someone else considering PetBridge for their animal shelter or rescue?
Do it! It saves time, it saves money, and — by far most important — it helps pets find homes, which is what all of this is about.
Looking for a Shelter Software Solution?
If your shelter is looking for pet shelter software or pet alerts like the SPCA of Monterey County, contact us! We'd love to talk to you about your options and discuss the additional PetBridge features.