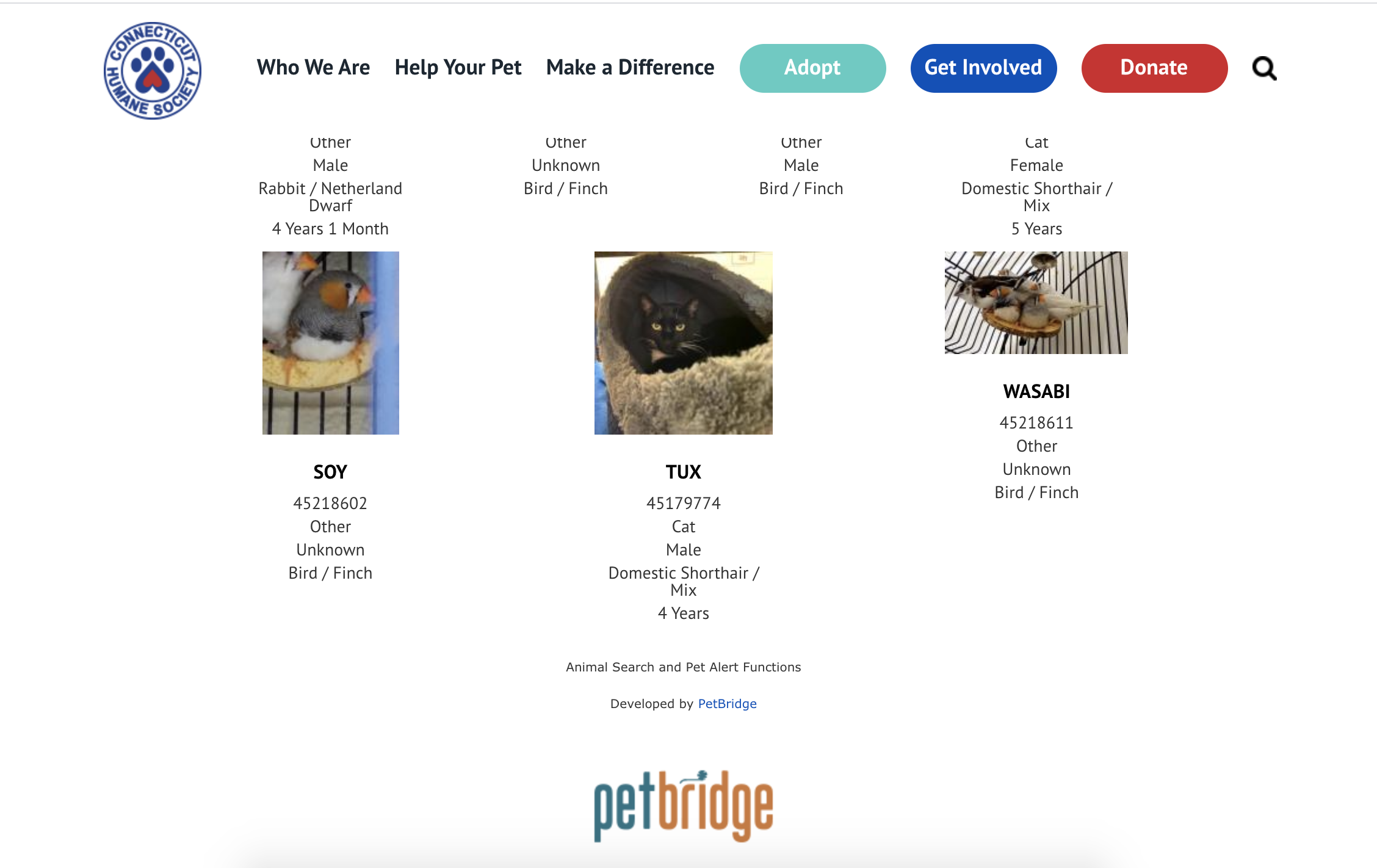 PetBridge is an animal shelter software and was developed by Baseline Creative, a full-service marketing agency passionate about helping save animal lives. PetBridge works with shelters and rescues across the country and when the opportunity to work with the Connecticut Humane Society (CHS) arose, we were excited to help them.
Susan Wollschlager is the Marketing and Communications Manager for the Connecticut Humane Society and she spoke to us about why CHS chose to work with PetBridge.
How long have you been using PetBridge on your website?
The Connecticut Humane Society has been using PetBridge for almost two years. CHS first connected with them while designing its new website. The Baseline Creative team was so easy to work with that CHS rolled out PetBridge on its predecessor website for several months while the new website was being built. This made "lemonade" out of the "lemon" that was CHS' aging website!
What was the need that brought you to PetBridge?
CHS wanted a more modern, organized, easy-to-use adoptable pet section on its website, especially when it came to viewing on a mobile device. PetBridge truly did bridge the gap between our pet database and our website software so that the pet profiles presented beautifully on desktop and on mobile. It also gave website visitors a search feature for types of pets they were looking for.
Why ultimately did you choose PetBridge for your shelter software?
The CHS team updating the website was impressed with Baseline Creative's website development and customer testimonials. Baseline was easy to work with from the start, quick to answer any questions, and find solutions to each concern or question.
What have been the greatest benefits of working with PetBridge?
The best part of working with PetBridge has been how quickly the customer service team responds to a problem if something suddenly isn't showing on the website correctly. On the off chance that something comes up, the team is available within minutes of sending an email or text on weekdays, weeknights or weekends.
But we also love how the Adoptions part of the CHS website looks now. It's much, much easier to look at available pets on a mobile device than before. It all now looks like a website should in 2020. The customer service has been so impressive that CHS has grown its relationship with Baseline to provide all technical and web developer support for our entire online program.
Have you seen adoption rates rise after PetBridge implementation?
Adoption rates have remained steady this whole time. We have seen an increase in the amount of people accessing our website on mobile, so it was imperative that we updated the available pet section so that they could easily see pets. 
What would you say to someone else considering PetBridge shelter software for their animal shelter or rescue?
CHS would definitely recommend using PetBridge as a way of showcasing pets in the most user-friendly way, especially if an audience relies heavily on mobile. A better user experience means people spend more time on and make more visits to, your website, which translates into more exposure for the pets and more adoptions.
PetBridge would love to answer your questions about our services. Take a tour of our features and compare our pricing levels, and as always, contact us with any questions you may have!